The Wayfarer Model
Webster's Dictionary Defines a "Wayfarer" as: noun, wā-fer-er, a traveler, a traveler especially on foot.
When I was younger, we travelled to foreign lands. Surfboard bags filled with a quiver to handle what we most thought we would need. Two trusty shortboards, a step up for bigger surf, and something fat just in case the waves are small or mushy. Two tee shirts and two boardshorts, rubber sandals, hat, and one set of traveler's clothes on our backs, for the flight to and from, also which doubled for pajamas. Cotton sleepsack made it so we could slide onto the board bag in colder weather, but that was a rarity. Taking only what you needed was the motto. Of course, there was always room for that Ukulele. You'd never pack your favorite or most expensive uke, but still a quality, beautiful sounding one, nonetheless.
"Noodle arms", tropical sunburnt skin, maybe a cut or two from the razor-sharp reef that we encountered during our surf session and an "ear to ear" smile. Recalling the day's rides would the topic of our conversations. While, playing ukulele under a coconut tree with a cold beer and relaxing in the shade with a song and a tune in paradise. These were the dreams of our anticipation. So many times, our dreams came true!
The Wayfarer Model Ukulele is a part of that dream. It's an all mahogany ukulele, unfinished interior, no bells, no whistles, just great sound at a great price. Grover tuners, Aquila Red strings, Bone saddle and nut. Available in Tenor, Concert, or Soprano, with the neck connection at 14th fret. Limited up-grades and no substitutions. Left-handed models are available at no extra charge.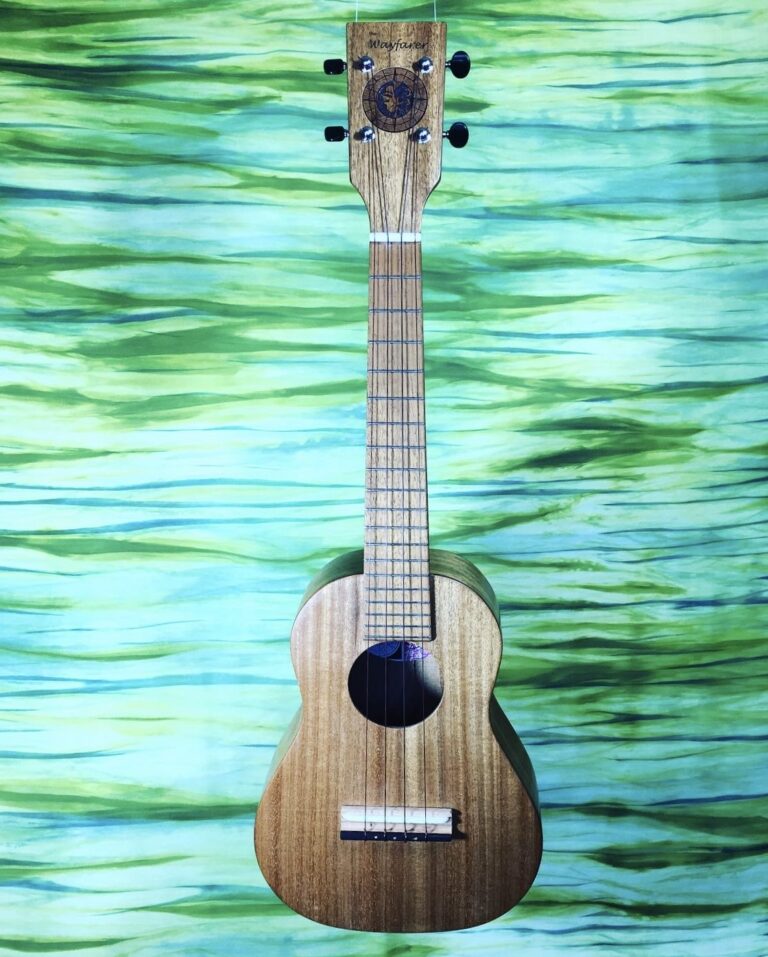 TYPE OF INSTRUMENT
UKULELE
| | |
| --- | --- |
| Instrument # | # 47-T |
| Name: | The Wayfarer Model |
| Size: | Tenor |
| Body Type: | Figure Eight |
| Type of Build: | Basic |
WOOD
| | |
| --- | --- |
| Top: | Mahogany |
| Sides: | Mahogany |
| Back: | Mahogany |
| Neck: | Mahogany |
| Fretboard: | Mahogany |
| Bridge: | Mahogany / Rosewood |
| Headstock: | Mahogany |
| Other: | N/A |