Everything you wanna know
Hāmākua Musical Instruments are built in Vista California on a small farm. They are all hand milled and assembled by Luthier Ross Yamamoto.
"From the wood to the glue to the finish we are trying to responsibly build the finest Ukulele we can."
As you browse our website, we hope you'll like what you see.  If you have any questions, give us a shout.
Environmental Philosophy of HMI
Hāmākua Musical Instruments (HMI) was founded in 2018 by luthier Ross Yamamoto on a small farm in Vista, California. His Hawaiian parents instilled in Ross a love and stewardship for the land and the ocean. From the wood to the glue to the finish, HMI responsibly builds ukuleles by choosing products and processes that have the lightest possible touch on the environment.
Reclaimed? Recycled? Repurposed? Salvaged?
There are a number of words that all try to describe how something old is used to make something new. Those used to describe the reuse of word products can be particularly confusing. There has also been a fair amount of controversy on what each term really means. We aren't the word police (if there is such a thing), but we thought it would be helpful to explain what these words mean to us. It should make what we post on our website more clear – and you might find it a wee bit interesting as well.
A cool wind blows across the land.  The scent of ginger and plumeria fill the air.  The mist from Akaka falls gently presses against your brow and the sounds of Hawaii fill your mind.  Palm trees and Banana leaf rustle in the wind and the simple yet beautiful sounds of Ukulele, laughter, and song and aloha reach your ear.  This is Hāmākua, the rich, northeast coast on the Big Island of Hawaii.
For those lacking the experience but still dreaming of building their own ukulele, Ross created a "private build" program. Ross and the student-customer work one-on-one in a "tag team" fashion to fulfill that dream. The program is tailored to the individual student's current woodworking skills, if any.
With guidance from Ross, wood type and components are selected by the student. To ensure student safety, Ross handles milling of wood and steps that require heavy machinery. Ross and the student collaborate on preparation and assembly, working within the stretch comfort level of the student. Homework and lots of sanding are always involved!
The final product is a truly unique source of pride for the student-customer. Being able to personalize their ukulele headstock with their own logo is a great reminder of their completing this bucket list project.
Note this program is on hiatus due to COVID-19.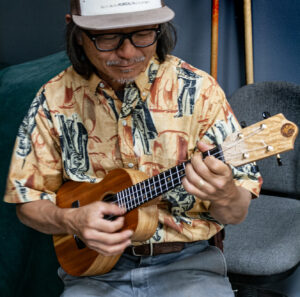 Founder and Luthier of HMI
Already an experienced woodworker, Ross began his luthier career as an apprentice to Bill Asher of Asher Guitars.  During his five years with Asher, Ross learned the fine art of handcrafting guitars.  Wood selection, milling, pattern and jig making, plus teardown and repairs were all part of his education. 
After relocating to Vista, California, Ross entered the renowned Stringed Instrument Program at Palomar College.  His luthier experience quickly led to Ross being accepted as a Teacher's Assistant (TA) in the Palomar woodworking program. 
Outside of Palomar, Ross created a workgroup where aspiring woodworkers can collaborate and improve their ukulele building skills.  He also created a "private build" program where he works one-on-one with individuals to fulfill their dream of building their own ukulele. 
Ross founded Hāmākua Musical Instruments (HMI) in 2018.  HMI specializes in ukulele construction and repair. 
I've purchased two ukulele from Hāmākua and now they are the only ones I use for performing and recording. I love the tone, resonance and volume, and with the "Baggs 5-0" pick-ups, I get the truest amplified ukulele sound. Custom set up was fast and easy. Even customizing the neck shape was amazing. Looking forward to getting another!
I have been playing my Hāmākua custom tenor ukulele almost every day for the past two years. It has a sound that relaxes, soothes, and stokes my senses.
I had the privilege of having Ross be my mentor when I was designing and building my custom ukulele [in the private build program]. I had some woodworking experience but was blown away by Ross' guidance, patience, and his design experience. I now have a one of a kind ukulele that both looks and sounds amazing.
My new favorite corner with my new custom ukulele. Thanks to @1379HMI. Over the rainbow, here I come.
I was more than happy with the way my ukulele turned out. The tone of the African Mahogany wood is very rich. Ross welcomed my design contributions, was very generous with his time, and was very patient with me as he guided me every step of the way with the building process [in the private build program].
Oh man , da Braddah Ross wen fix my uke and wen make em no betta den new. Da neck wen broke off and the frets was hash. Da top was buss too. I want to make em cherry again and keep em all koa parts. Fast kine service, wen da uke was pau I wen no believe. Was like new kine. I neva get stika shock, was manini kine price. Plenty alohas with supa friendly service. No can beat. Big mahalos, . Translation: Wow, Ross treated me like I was family. He repaired my Kamaka Tiki Concert Koa Ukulele and restored it to new condition. The neck and the fret board had separated from the body. The top was also detached. It was need of a restoration using Hawaiian Koa wood. Ross' service was fast and when the restoration was complete I very moved with the quality of his workmanship. More so, his services were very reasonable. Ross shares of himself with aloha and friendly service. He is the best. Much Thanks,