With its high, clear voice, the sound of a soprano ukulele is quintessential Hawaii.  If you'd like to imagine relaxing on the beach singing along with family and friends, this is the ukulele for you!  This ukulele combines the classic ukulele shape with a snazzy two-tone body so it's quite the beauty. 
Sometimes wood comes along and it calls out to be paired with contrasting panels. This Soprano was definitely one of them.
The top and back are made from Big Island Hawaiian koa that has the heavy grain and shimmer of "fiddle back". They are paired with beautiful Birdseye maple sides; the body is bound with walnut.
Birdseye maple is a rare characteristic found in hard maple trees. Only about 1% of all maple trees contain the Birdseye figure.
The neck is Okoumé, one of the many sustainably grown African Mahogany woods. The headstock and tailpiece are book matched Big Island Koa. The fretboard is Indian Rosewood, with wrap around basswood inlay fret markers.
The bridge of Indian rosewood with curly Maple edging gives this ukulele a beautiful, finished look.
As you play this uke, it's easy to imagine surfers dancing on the beach and picture yourself part of a kanikapila playing with all your heart.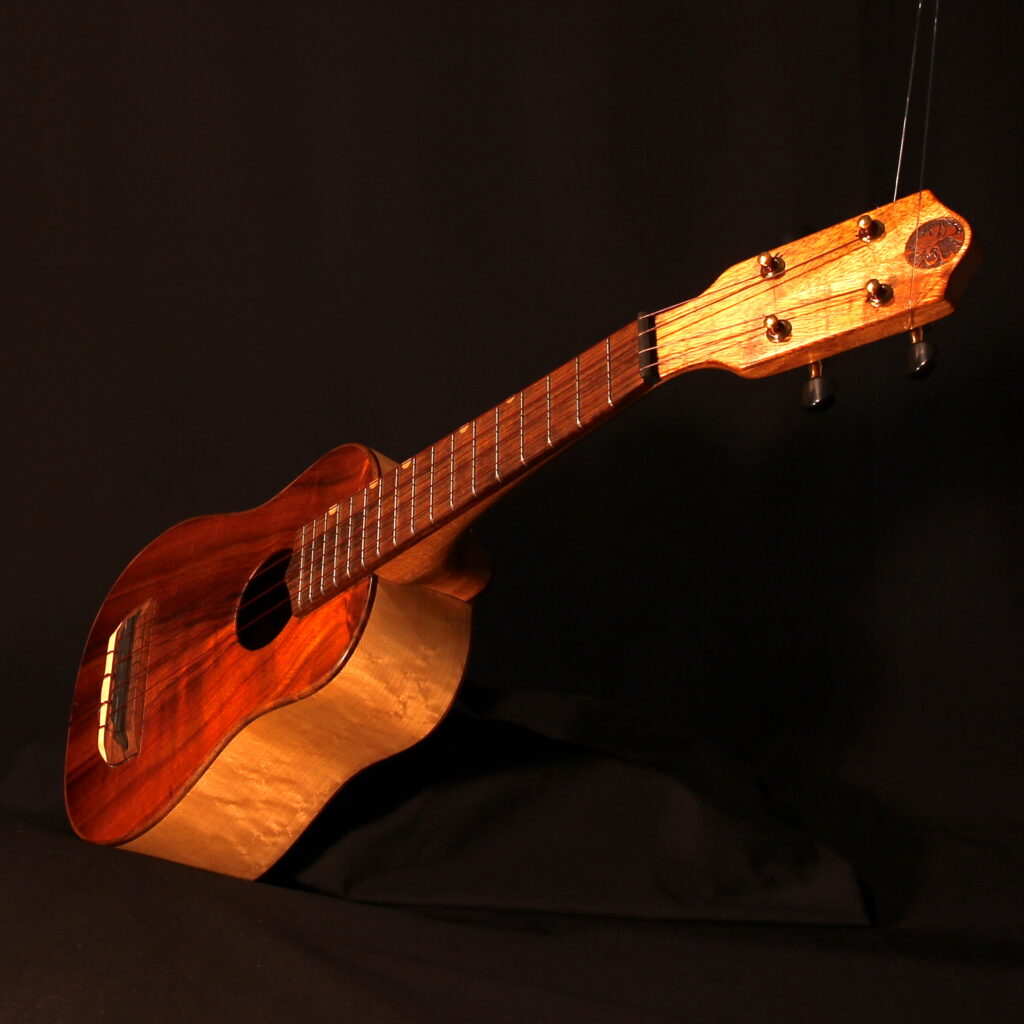 FEATURES
acoustic, soprano ukulele.
bright cheery voice, quintessential to the ukulele.
Big Island Hawaiian koa front and back.
birds eye maple sides give this ukulele a beautiful two-tone look.
soft Vee neck, connected at 12th fret.
17 total frets.
wrap around basswood fret markers are easier to see while playing.
Aquila Ukulele Reds strings give this ukulele a warmer sound.
INSPIRATION
I can hear the song birds sing, the Coqui frogs are croaking, the clucking sounds of a moa wahine (hen) and her keiki (children) by the roadside. The ditch pours the morning rains into the bay as the waves crash along the shore. Children playing in the sand, laughing at the sand crabs as they pop in and out of their holes.
And the sounds of kanikapila at Auntie Lois' porch.
Voices in harmony, the elements of nature, and the strumming ukulele, lifting up their hearts in Mele Nahenahe. A beautiful noise. Kalihiwai (a beach on Kauai), so beautiful, waves so strong, and a bay of beauty.
This place inspired the building of this ukulele. The waves are represented by the curly maple. The singing of the kanikapila in the ukulele's voice.
As you play this uke, it's easy to imagine surfers dancing on the beach and picture yourself part of a kanikapila playing for the dancers.
Mahalo
Kanikapila: style of Hawaiian music produced in an impromptu jam session, most commonly taking place at a beach, or family gathering. The term comes from kani which means sound. and pila which means any string instrument in the Hawaiian language.
I love Okoumé, a renewable resource, fast growing and plentiful.  It has superior sound quality and excellent strength to weight ratio. Ideal for musical instrument building.

— Luthier comment
SPECS
BODY
| | | | |
| --- | --- | --- | --- |
| body back: | Hawaiian koa | body sides: | Birdseye maple |
| body top: | Hawaiian koa | body finish: | Shellac |
| body shape: | standard | upper bout: | 5-7/16″ |
| rosette: | n/a | lower bout: | 7-1/8″ |
| saddle: | ebony | bridge | rosewood |
| binding: | walnut | | |
NECK
| | | | |
| --- | --- | --- | --- |
| wood: | okoumé mahogany | fret markers: | basswood |
| neck shape: | soft vee | finish: | Shellac |
| fretboard: | rosewood | scale length: | 13-3/4″ |
| number of frets: | 17 | fret wire: | banjo |
| nut material: | rosewood | nut width: | 1-3/8″ |
| headstock plate: | Hawaiian koa | headstock logo: | mape |
ELECTRONICS
MISCELLANEOUS
| | | | |
| --- | --- | --- | --- |
| strings: | Aquila Ukulele – Reds Series | tuning pegs: | Grover in Blk/Gld |
RECOMMENDED ACCESSORIES